Calhoun Area Metropolitan

Planning Organization
The Commission provides program administrative support to the Calhoun Area Metropolitan Planning Organization (MPO). In cooperation with the Alabama Department of Transportation (ALDOT) and the Federal Highway Administration (FHWA), the MPO is responsible for carrying out the metropolitan transportation planning process, including public participation, for the Calhoun Urbanized Area.

The MPO was established in 1984 with a joint Transportation Planning Process Agreement signed with the ALDOT in accordance with the transportation planning requirements of the Federal-Aid Highway Act of 1962. The 1962 Act specified that urbanized areas with a population of 50,000 or more must develop a 3 "C" planning process that is comprehensive, cooperative, and continuing. 
The Calhoun Area MPO has six member jurisdictions: Anniston, Hobson City, Jacksonville, Oxford, Weaver, and urban portions of Calhoun County.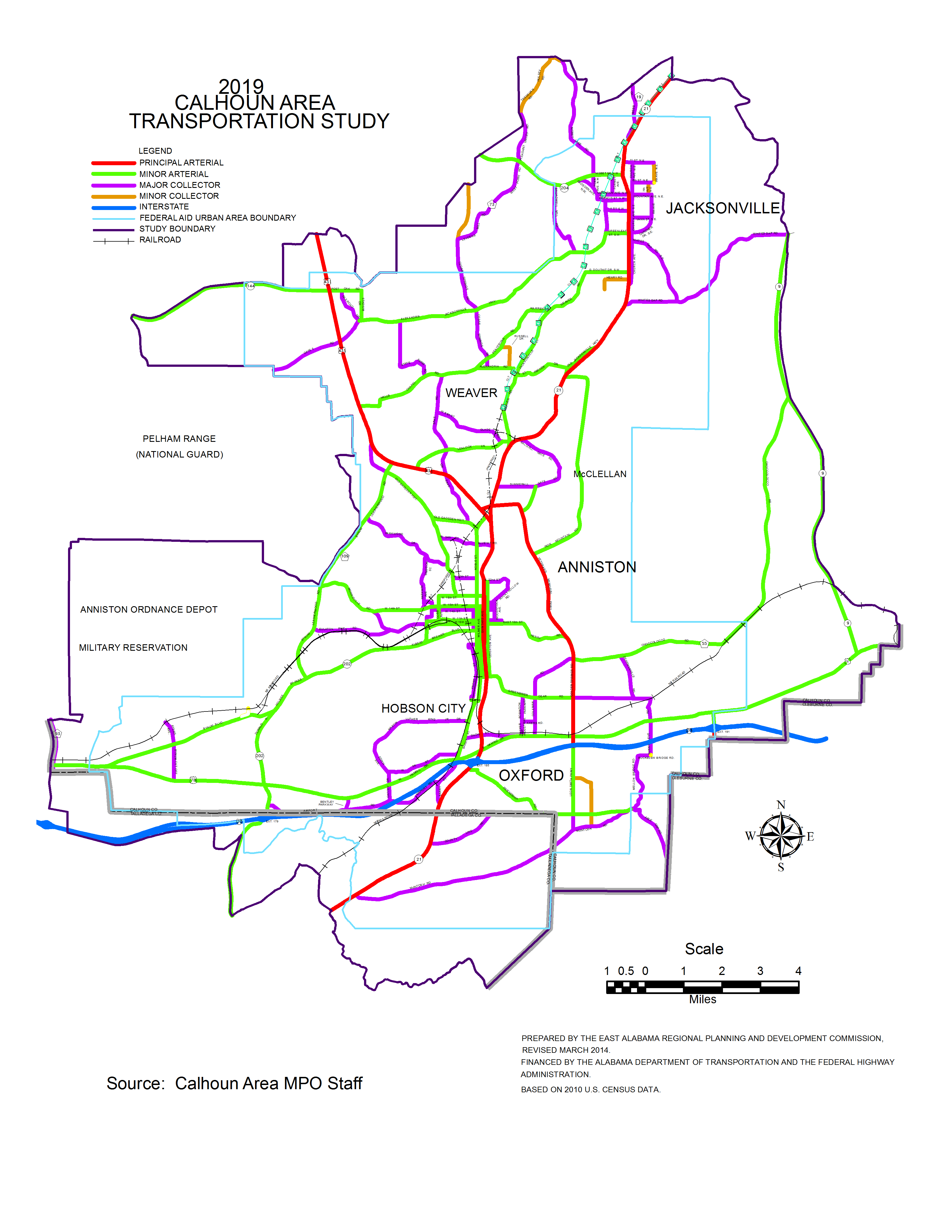 The Calhoun Area transportation planning process is conducted by the MPO. The MPO is composed of three main committees. The Policy (Voting) Committee is the official decision-making body of the process. The MPO committee is served by two main advisory committees: the Technical Advisory Committee (TAC) and the Citizens Advisory Committee (CAC). A third advisory committee, The Bicycle and Pedestrian Advisory Committee (BPAC),  is an ad-hoc committee that convenes when the Bicycle and Pedestrian Plan is undergoing an update.
Click here for more information regarding MPO Committees and Meetings
Click here for MPO documents
Click here for archived MPO/RPO Transportation Newsletters
Find us on Facebook!
Elizabeth (Libby) Messick

regional planner
1130 Quintard Avenue Anniston, Alabama, 36202
Calhoun Area MPO
P.O. Box 2186
Anniston, Alabama, 36202
8:00 A.M. – 5:00 P.M. Monday – Friday